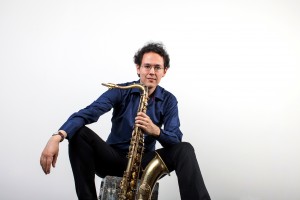 Born in Rabat, Morocco, French saxophone player Faïz Lamouri began the study of saxophone and music at a very early age.
After eight years of classical studies, he became interested in jazz through musicians like Paul Desmond, Lester Young, Charlie Parker, Sonny Rollins, John Coltrane, Chris Potter, Mark Turner or Walter Smith.
In 2004, Faïz Lamouri moved to Paris where he emerged quickly as a leading figure of the local jazz scene. He led a quintet that performed in the most prestigious Parisian jazz clubs like the Sunside, the Sunset and the Baiser Salé.

After four year in Paris, Faïz Lamouri received a merit scholarship in 2008 to attend the prestigious New School for Jazz and Contemporary Music in New York. There he refined his craft with internationally renowned jazz musicians including Mark Tuner, Reggie Workman, Abraham Burton, Joel Frahm, Vincent Herring, Wayne Escoffery and Andy Milne to cite a few.
Faiz got his Bachelor of Fine art in Jazz Performance with honors in May 2011 from the New School.
In New York, Faïz Lamouri shared the stage with some of the greatest jazz masters such as Reggie Workman, Vic Juris, Jimmy Owens and Wycliff Gordon. He also regularly performed with his own band all around the city in various Jazz venues like the Shrine, The Tutuma Social Club, Club 269, Spike Hill or the Somethin' jazz club.
In May 2010 he was notably featured at the Iridium Jazz Club as part of their Rising Stars Series.
Faïz moved back to Paris in 2013 and continues to perform regularly in Jazz clubs and Festivals around the world.
At only 28 years old, Faïz Lamouri has already played in many major jazz venues in the world and was quoted by the Soir Echos as a "Young Prodigy".
Influenced by the legendary masters of the past as well as by the new stars of today Jazz scene, Faïz Lamouri's music transports the listener to a captivating and highly creative musical universe.
In 2015, he recorded his debut album in New York with american musicians Vicente Archer and Damion Reid as well as Italian pianist Sam Mortellaro. The album was released on Soprane Records in 2016 to great critical acclaim and is often featured in French and international Jazz Radios.


Né à Rabat au Maroc, Faïz Lamouri débuta l'étude du saxophone et de la musique dès l'âge de 6 ans.
Après huit années d'études classique, il commença à s'intéresser au jazz à travers des musiciens comme Paul Desmond, Lester Young, Charlie Parker, Sonny Rollins, John Coltrane, Chris Potter, Mark Turner ou encore Walter Smith.
En 2004, il s'installa à Paris où il suivit les cours de l'American school of Modern Music jusqu'en 2008. Durant ces quatre années, Faïz Lamouri s'est produit régulièrement en leader dans des clubs de jazz prestigieux de la capitale , comme le Baiser Salé et le Sunside.
Faïz Lamouri obtint une bourse de mérite en 2008 pour étudier à la New School For Jazz and Contemporary Music à New York. Cette formation lui offrit l'opportunité d'étudier auprès de musiciens renommés de la scène jazz New Yorkaise tels que Mark Turner, Joel Frahm, Wayne Escoffery, Vincent Herring et Abraham Burton.
Il eut en outre l'honneur de recevoir l'enseignement d'une légende du jazz en la personne de Reggie Workman, ancien contrebassiste de John Coltrane.
C'est avec les honneurs qu'il obtint en Mai 2011 le diplôme de fin d'études de la New School for Jazz and Contemporary Music .
A New York, Faïz Lamouri s'est produit régulièrement avec son groupe dans de nombreux clubs comme le Tutuma Social Club, le Shrine, le Miles Café, le Spike Hill ou encore le prestigieux Dizzy's Club.
Il s'est aussi produit avec son quintet au célèbre Iridium Jazz club en deuxième partie du groupe de Kenny Garret dans le cadre des "New Faces Series".
En 2011, Faiz Lamouri donna un concert sur la scène du réputé festival de Jazz au Chellah au maroc.
A seulement 28 ans Faïz Lamouri s'est déjà produit avec son propre groupe dans les clubs et festivals de jazz les plus prestigieux de par le monde.
De retour en europe en 2013 Faïz Lamouri s'est imposé comme un des saxophonistes de jazz incontournable de la nouvelle génération. Personnelle et originale, sa musique transporte l'auditeur dans un univers musical à la fois explosif et envoûtant.

En 2015, il a enregistré son premier album à New York avec les musiciens américains Vicente Archer et Damion Reid ainsi que le pianiste italien Sam Mortellaro. L'album est sorti en 2016 chez Soprane Records sous les acclamations de la presse.